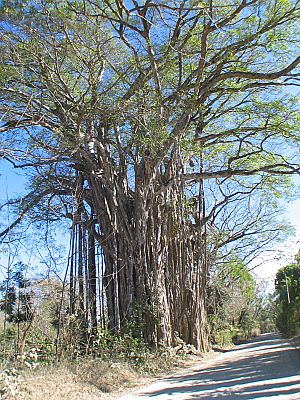 The huge centenial Ficus tree (Ficus citrifolia) located near the town of Cabuya has been awarded the "Exceptional Tree of the Year Award" for 2009 by the Instituto Nacional de Biodiversidad (INBio).

This tree has been the main landmark of Cabuya due to its incredible size of almost 22 meters in diameter and over 40 meters in height.

Besides providing astounding beauty enjoyed by all visitors, the tree serves as shelter and food for several species of birds, bats, monkeys, iguanas, and insects.

"This is a spectacular tree not only because of its exceptional beauty, but also because of its natural contibution to the enviroment of the zone" said specialist Isabel Di Mare who participated in the election of the award.

For further reading about this award in Spanish go to La Nacion Newspaper Article.
InBio "Exceptional Tree of the Year Award" Ceremony: